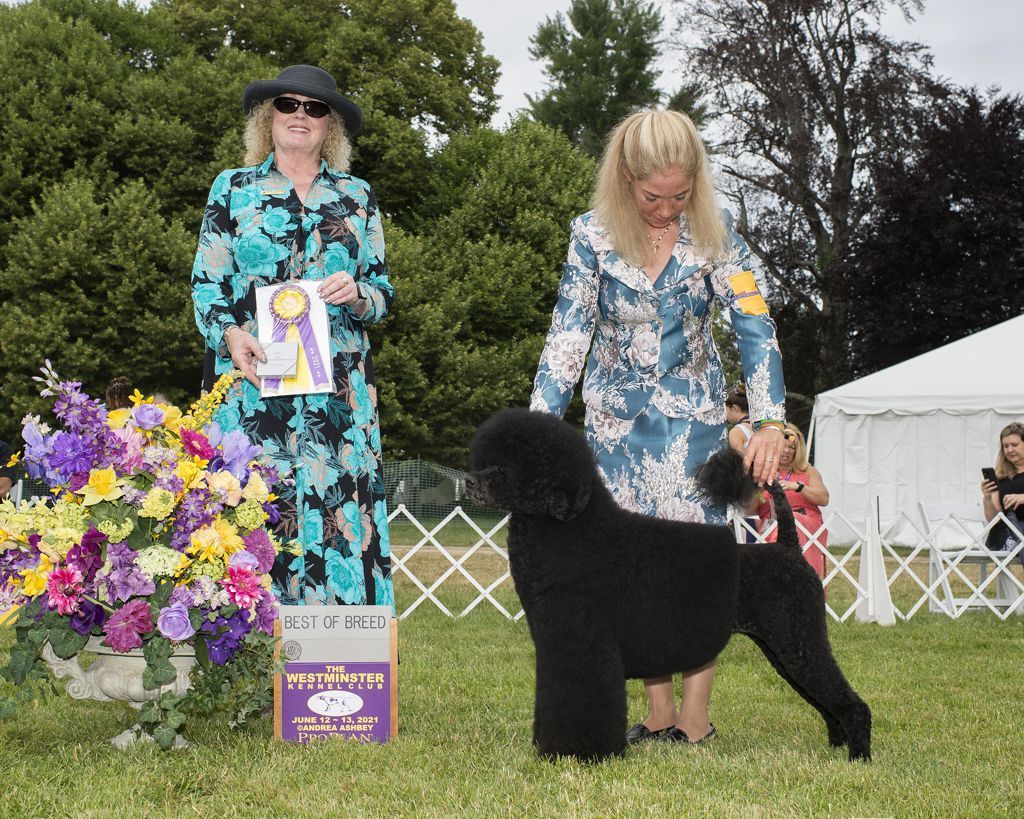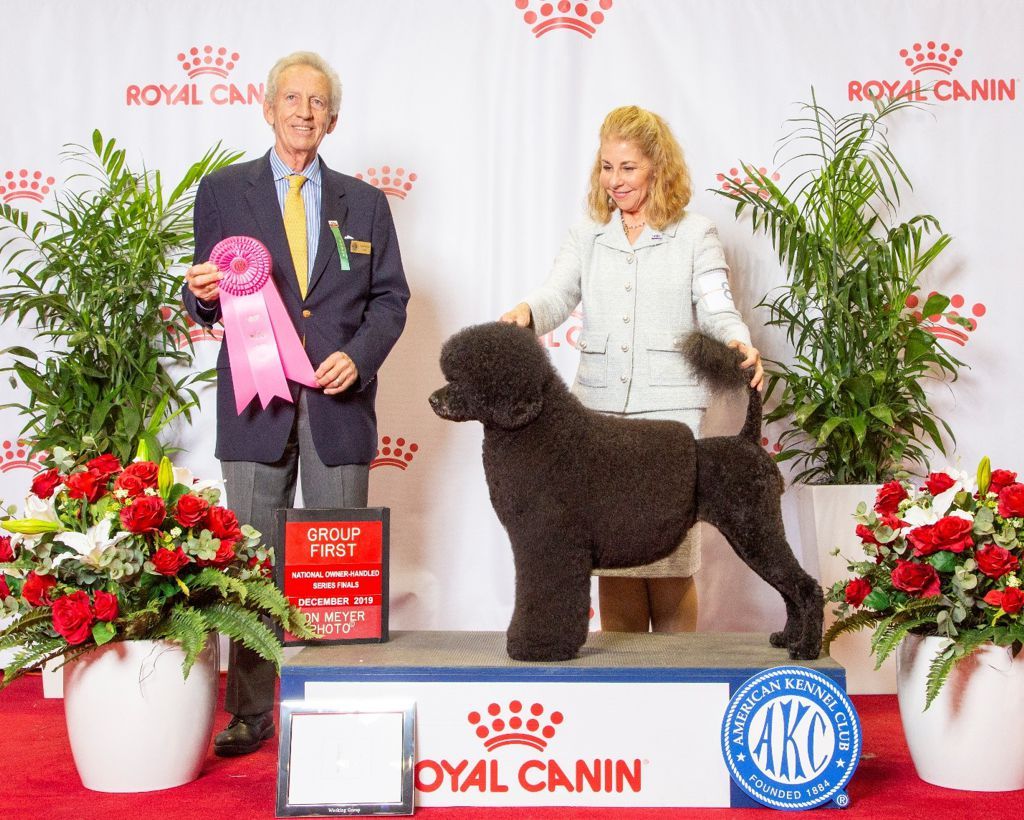 President – Beth Mercier (2023)
Although I have had dogs all my life, I met my first Portuguese Water Dog almost 20 years at a gas station near Ft. Myers, Florida, while my family was vacationing in the area. After talking to the owner and doing my own research on the breed, my family decided to add a Portuguese Water Dog to the family when we lost our beloved Newfoundland. We had always enjoyed Working and Sporting dogs and found them to be great companions for our two sons. We live in St. Marys on the Georgia coast and wanted to have a dog that would enjoy the water as much as we do. My husband jokes that he remembers agreeing to "a dog" but never expected that we would share our home with five Portuguese Water Dogs.
I hired a handler to show my first Portuguese Water Dog after being convinced by his groomer that he needed to be shown. He finished his AKC CH quickly, and I was hooked on the sport of conformation. I continued to use professional handlers to show my other PWDs until 2019, when I decided to show Blaze myself and participate in both the PWDCA Owner Handler program and the AKC NOHS. At the 2019 National Specialty, I owner-handled Blaze to Select Bitch, Award of Merit and Owner Handled Best of Breed, achievements beyond my wildest hopes. Blaze became the #1 AKC NOHS Working Dog in 2019. In December of 2019, we won the Owner Handled Working Group at the NOHS Finals at the AKC Nationals in Orlando, a wonderful finale to our amazing owner handled journey.
In addition to conformation, my dogs and I have competed in Obedience, Rally and water. My dogs have also worked as therapy dogs for children with reading disabilities and autism. As a result of this experience, I helped to found Guiding Light Assistance Dogs, G.L.A.D., to not only provide therapy dogs for schools and hospitals but to also work with at risk youth to train dogs for therapy programs.
I am a member of the PWDCA and the USSPWD and have participated in Fun Days, dry land training, water camp, and Meet the Breeds at the AKC National. I served as trophy chair for the PWDCA National held in Callaway Gardens, Georgia. I enjoy every opportunity to bond with this amazing breed and their people.
Along with our love of Portuguese Water Dogs, my husband, Fred, and I share a passion for historic preservation and early southern material culture. Our never-ending restoration project is our 18th century home built by Nathaniel Pendleton, Alexander Hamilton's second in his dual with Aaron Burr, that was enlarged in 1830 by General John Floyd, head of the Georgia Militia in the War of 1812. I also serve on the boards of Old Salem Museum and Gardens and the Museum of Early Southern Decorative Arts in Winston-Salem, North Carolina and on the Decorative Arts Advisory Committee for the Georgia Museum of Art in Athens, Georgia.
I am Vice President of Customer Experience for digital banking provider, Q2, based in Austin, Texas. My career in financial services spans over 30 years with organizations including the Federal Reserve, IBM, and Intuit. I hold a BS in Industrial Management from The Georgia Institute of Technology and have completed the Graduate School of Banking graduate studies program at Louisiana State University.
---
Treasurer – Marcia Bingham (2022)
---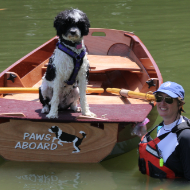 Secretary – Kim Kluckman (2023)
Kim got her first PWD, "Brizo" in 2018. Brizo has been nonstop fun ever since. Kim loves the water almost as much as Brizo. When not working and training with Brizo, Kim enjoys paddle boarding, kayaking, rowing, and sailing.
---
Director – Karen Latham (2022)
I am originally from PA and bred and exhibited Old English Sheepdogs at that time. In the late 1980s I moved to Chesapeake, Virginia and lost my last beloved Old English Sheepdog. I decided to think about which breed would be a better fit for the hot humid summers plus my love for the water. I was already a member of an all breed club and while attending one of their shows saw my first Portuguese Water Dog. After researching the breed and visiting a local breeder, I was hooked.
My first Portuguese Water Dog came to live with me in 1996. I went back to showing and breeding on a very limited basis producing numerous titled dogs. A friend encouraged me to enter the first Movers and Shakers water trial. I did not know a thing about water trials back then but took my four dogs to the trials that weekend. The dogs all got junior titles and I was thrilled.
There were a few more things I wanted to accomplish on my bucket list and one was to finish my dog from the bred by exhibitor class, which I did. When AKC introduced the grand championship title, I decided to get a GCH on my six year old dog. Not planning to rank him, but after winning a couple of supported entries I was pulled into the ranking game. He made it into the top ten Portuguese Water dogs for that year.
Now, after 22 years of being involved with this breed, I am still doing water trials, conformation, obedience, barn hunt along with beginning agility.
I was always a member of the PWDCA and remain a member of my all breed club in Virginia. I served as President for over 5 years, Show Chair, along with serving as Corresponding Secretary, Judge's Selection committee, member of the board and held various other positions as well.
---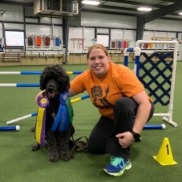 Director – Colleen Bragg (2022)
My love for dogs started out at an early age. When I was 13 years old, I was finally old enough volunteer at my local animal shelter. I volunteered most weekends and every summer up until I went to college. I would often get to foster orphaned kittens and puppies. During that time, I had a Border Collie named Andre. He was a typical farm bred (not well bred) Border Collie, full of energy and very biddable. I used him for all my 4H projects from 8th-12th Grade. While I did not have the time to take him to formal training classes, I did learn quite a bit from my 4H projects, and the few online resources at the time.
When I graduated from college a very cute, little American Bulldog mix puppy literally fell into my lap. Aidan was the first dog that I took formal training classes with, and he was my first performance dog. He had some reactivity issues, but I was able to get 3 AKC Performance titles on him (I realize this is not impressive by any means). My venture into Portuguese Water Dogs started in 2011 when Aidan was diagnosed with an enlarged heart. He was high energy and partially brachycephalic, so safely draining his energy was difficult in the summer. Cristi Wetherholt invited us up to her pond to start training water work. With the help of Cindi Robusto and Cristi, Aidan became quite the water dog. While spending time together, I got to help them train Indy and Sammie for water trials. This is when I fell in love with PWDs and Water Work.
In 2012, I welcomed my first PWD into my little family. Armada is my first PWD, so I'm not as well versed in the breed as most. After Aidan's untimely death from hemangiosarcoma in October 2015, Trek decided that Jeremy (my boyfriend) was Trek's, so Trek ended up staying with us. Armada has decided that he does not like water, which is fine with me, but he currently has 19 AKC titles (none of which are overly impressive) and is the most amazing therapy dog. Since we did not get Trek until he was 18 months old, he was a bit behind in his foundations, so he has been a bit slower in earning titles. Trek currently has 10 AKC titles and 2 PWDCA titles. In January 2020, I will be going back to my "bull breed" roots and will be welcoming a Staffordshire Bull Terrier puppy into the pack.
While training Aidan I became very interested in dog behavior, so I can often be found on my computer reading through my Fenzi Dog Sports Academy classes (and then working on what I have learned with my dogs). I have been an AKC Canine Good Citizen evaluator since 2010 and have recently become an AKC Temperament Test Evaluator. I am also a Certified Professional Canine Fitness Trainer (CPCFT). I served as Obedience & Rally Trial Chair and/or Secretary for a three years for two local obedience training clubs. I was the Treasurer for Kanawha Obedience Training Club from 2013-2016. In my non-dog professional life, I am a Geographic Information Systems (GIS) Coordinator for the WV State Historic Preservation Office (SHPO) and have served on the Board of Directors of the WV Association of Geospatial Professional (WVAGP) from 2014 – Present. I also served as President for the WVAGP from 2017-2019. I believe my versatile knowledge base can help move Movers & Shakers PWD Club forward in various ways.
---
Director (2023) – Ken Melson
---
Director (2023) – Toni McHugh
---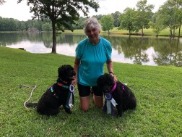 Director (2023) – Jennifer Wenk
My love affair with PWDs began in 1999 with Joker, a five-year old whose owner could no longer care for him. He came to me on American Airlines and lived with me for 8 years be­fore he suddenly died of what we thought was hemangiosarcoma. Since then there have been 4 other PWDs in the lives of myself and my husband, Pete. We currently have two PWDs, having recently lost our 13 year-old rescued PWD, Walker. We live in Beaufort NC and par­ticipate in Water and Agility. Pete and I have belonged to Movers & Shakers for 10 years and during that time I have served as web diva for the Club's website. I have served as the Regional Rescue Representative for the Movers and Shakers PWD Club of the Carolinas since 2012. I also serve as Secretary on the Board of PWDCA Rescue. When not working with our PWDS, I fly a 1946 Aeronca Champ for fun and relaxation, or when the weather is not good, dabble in fiber arts. I am just now learning how to spin wool for yarn. s.
---